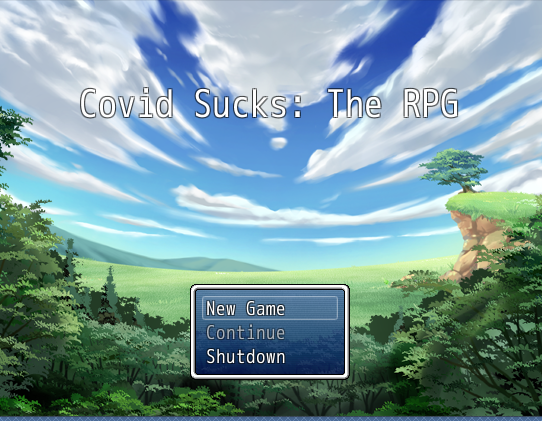 Covid Sucks: The RPG
Dear Prospective Player,
This game was made to reflect part of the experience of this awful year of 2020. Love to everyone affected by this awful pandemic. I hope this game serves as a memory going forward of what we went through in a post-pandemic world.

This game is what I call an SLG or Silly Little Game. It can be completed in about 5 minutes, so it won't take much of your day. It's not perfect by a long shot but it's not meant to be. It's just meant to reflect the absurdity of pandemic life, including one of its great offenses: keeping us all apart.

Half of all profits go to support the global fight against COVID-19 and the other half goes to funding the creation of more SLG's, by yours truly.

You don't have to buy the game to help the global response against COVID-19. Donate directly here: https://covid19responsefund.org/en
Much love,
Jonathan

Longest side note of all time:
One of the limitations of the engine I used to create this, is that this game is only playable on PC. I hope to use profits earned to purchase an engine that can create games across PC, Mac, and Mobile.

I made a number of SLG's in the past such as Beowulf: The RPG and Dorian Gray: The RPG, the laptop I used to create them is long gone but my high school English teacher may still have them (Thanks for letting me make games instead of papers Dr. G, miss your class!). I actually went to college with the intention of being a game designer (instead I took classes about how design processors 🤮) so publishing this game is sort of fulfilling a dream of mine, so thank you for playing! My younger self would be proud and also shocked at how fast my hair is graying. Thanks again😊!
Download
Click download now to get access to the following files:
Covid Sucks The RPG.exe
190 MB